About Us at Mountain Lane Beef Farm!

At Mountain Lane Farm, it will never be about the bottom line. What we are about is creating art.
While we must be fiscally responsible to our vendors and lenders, what we see as most essential is creating art.
What do we mean by creating art?
At Mountain Lane Farm, we are consumed about making your purchase from us an enriching one that benefits you on many levels.
Our beef is better for you because in large part it comes from a holistically healthier animal. The adage we are what we eat is directly related to the animals and plants our food comes from. Our beef are afforded a diet that is strictly forage based. This is what Mother Nature intended as the cow's diet and the results are astounding. As proof, several years ago we participated in the voluntary Wisconsin Johne's Disease Testing Program. Mountain Lane Farm was the ONLY Wisconsin Beef Operation to test for Johne's (pronounced Yoh-nees) disease, a dehabilitating digestive disorder that has been linked to robbing operations of up to 40% of their herds. We didn't test because we had problems, but to create an air of transparency that separates us from other producers. In the four years we participated in the program, we had NO positive cases. Diet is but one component of health. Environment is another factor and here at Mountain Lane Farm we have addressed that as well.
In order to provide the most humane experience, Mountain Lane Farm worked with Animal Welfare Approved. An arm of the Animal Welfare Institute, Animal Welfare Approved provides volunteer producers the opportunity to earn certification by adhering to the highest protocols, comparable to, or exceeding national organic standards. In essence, from conception to rendering, animals at Mountain Lane Farm are treated with the highest degree of care. The Animal Welfare Approved label is proof that each animal is itself a work of art.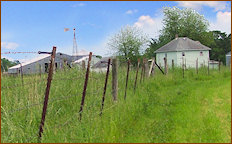 All that is fine but if you can't provide the little things, all is lost. At Mountain Lane Farm, we provide home delivery, flexible payment plans and free farm visits. At the end of the day though, it's the relationships we make. We want your experience with us to be one that changes the way you think of food and of farming.
Joshua, Jacob, Nathaniel, Zachary, Gabriel, Sharon and Tom are consumed by your satisfaction. Whether it is guaranteeing that diet is totally forage based or that each animal is tended to using the most humane technique available, or even listening to you, at Mountain Lane Farm, it's all about creating art.
Thank you for visiting our site. If you would like to learn more, subscribe and follow our blog that details the creation of our art.