Read Our Newsletter
Welcome to MountainLaneBeef.com!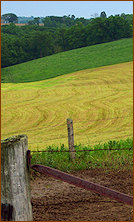 I'm pleased to welcome all of you to our website. Please come back periodically for a portal that will be updated with new content quite frequently.
My Story
After I was married in 2000, my father spoke about wanting to retire the herd and wanted to know if I was interested.
It was a difficult decision as I was working off the farm full time. I wondered if I could give the time necessary to take care of the cattle.
If I wanted to be successful, I knew that I needed to be sustainable. A friend of mine gave me an article on grass-fed beef. At first I laughed, but after reading the article, I realized that grass-fed would be the way I could farm with low inputs and time investment.
From there I pursued federal funding to convert pastures into paddocks, worked to install water systems and reseeded with a wide arrays of clovers, alfalfas, grasses and today brassicas.
The work is still in progress, but after a decade of work, the farm is set up with systems that promote the health and growth of cattle strictly on grass.
I am far from complete. We continue to work on soil improvement, new grass combinations as well as other capital enhancements.
Please follow my blog and come back to the website periodically for new updates.
My Goal
I strive to provide my family and yours with the best food that I can raise myself.